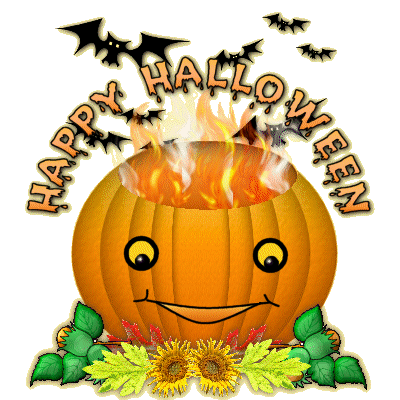 Written by A.R. Jeffery. 10.09.03

I have written this tutorial using Psp ver 7.
Some familiarity with the tools has been assumed but you are most
welcome to email me if you have any problems.
Remember to SAVE regularly.
Supplies
PaintShopPro download a trial version HERE
My zip containing a gradient and images HERE
Fire, Smoke and Sparks Tubes HERE- These tubes are no longer available
at The Hood but Robins tubes are being hosted at the above link.
Thanks Tracy.
Halloween tubes are also available as a download from Jasc.
Psp ver 8 users read the information on converting these tubes.
Okay lets get started.
Put the 'pumpkin' gradient into Jasc Psp Gradient folder.
Minimize the 'bat' and 'deco' image, or tube them if you prefer.
Set your Foreground to Gradient and select 'pumpkin'.
Set your Background to Null.
1) Open a new image 450x450 transparent. Add a new raster layer and name it pumpkin1.
Using the selection tool and circle. Draw out a medium size circle.
Flood your circle with the pumpkin gradient with the following settings.
Do not deselect.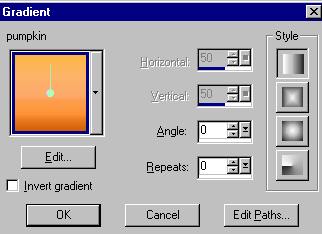 Right click on your highlighted layer in the layer palette and choose duplicate.
Keep this layer highlighted.
Select-Effect-Blur-Gaussien Blur with the following settings.
Effects-Noise-Add-10% Uniform.
Do not deselect.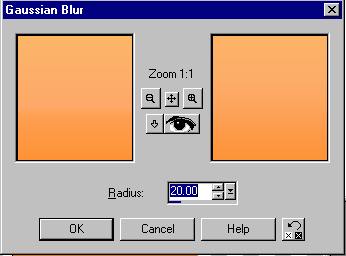 Open a new raster layer.
Effects-3D-Cutout with the following settings.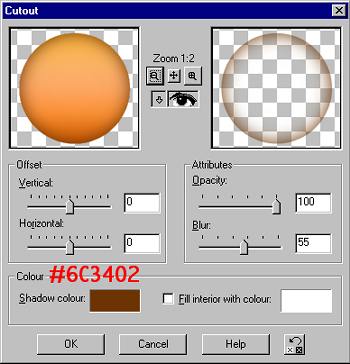 Layers Merge-Merge Visible. Deselect.
Right click on your merged layer in your layer palette and choose Duplicate.
Duplicate 4 times-name layers Pumpkin 2,3,4 and 5.
2) Using the Deform tool move the top layer(pumpkin5) in towards the middle.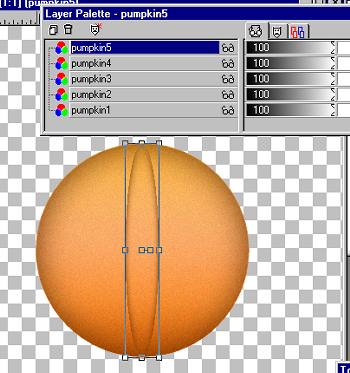 Click apply. Highlight layer (pumpkin 4) in your layer palette and use the Deform tool
to squash the circle in this time making it a little wider. Continue doing this on layer
3 and 2 each time leaving the circle a little wider until you have an image similar to mine.
When you have all your layers looking the way you would like-Layers-Merge-Merge Visible.
Name the merged layer pumpkin.
You can export your pumpkin as a tube at this point to use another time.
3) Using your Selection tool and ellipse pull out an ellipse at the top of
your pumpkin.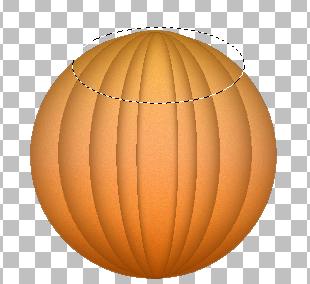 Press delete. Do not deselect. Open a new Raster layer and name it 'inside'.
Use the Dropper tool to select a medium shade from your pumpkin image.
I have used #EBA05F. Flood the ellipse. Selections-Float and apply the following cutout
with #6C3402, Ver 15 Hor 0 Opac 60 blur 20. Deselect and drag this layer
below the merged pumpkin layer. SAVE your image and if your ready,
we will move on to the next part.
All graphics and web design by Anita.
Copyright Daydreamer.
All rights reserved 2002 2004