Page 2

I have made the eye on three separate layers.
4) Open the eye image and decide how you would like it before merging
Use the Mover tool to posistion the eyeball to get different expressions.
When you have decided. Go to Layer-Merge-Merge Visible.
Right click the top of your image. Choose-Copy.
Now open your original image of the pumpkin and make sure you are on
the Pumpkin layer. Right click the top and choose-Paste as a new layer.
We need to make the eye a little smaller. Click on Image on the toolbar and choose
Resize.We will use Percentage of Original and put in 80. Make sure
Bicubic Resample is selected from the drop down box. Take the tick out of
Resize all Layer and make sure Maintain Aspect Ratio is ticked. Click OK.
Now right click this layer in your layer palette and choose Duplicate.
use the mover tool to place it.
Careful if you decide to mirror the eye. I ended up with a cross eyed pumpkin...lol.
5) Open a new raster layer and name it mouth.
Select the Pen tool and choose Bezier Curve with these settings.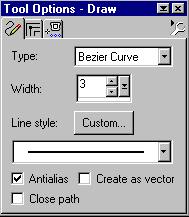 Draw your line fairly high using the centre of each eye as a guide to start and finish.
Now click fairly low and in the centre once, then once more to set the curve.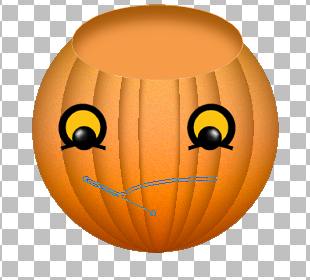 Draw the next line across this curve from corner to corner, click just a little
under the line in the centre then click again to set it. Add a short line at an angle
at each corner of the mouth clicking in the centre towards the mouth..
Use the Magic Wand and select the inside of the mouth.
Selections-Modify-Expand by 2.
Open a new Raster layer call it 'inside'. Floodfill with #EB50AF. Selection-Float.
Apply a cutout with the following settings.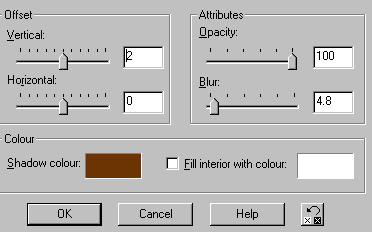 Repeat the cutout changing the vertical to -2.
Deselect. Layer-Arrange-Move Down.
Turn off your 'inside' layer (bottom layer) and Layer-Merge Visible.
6) make sure your 'inside' layer is active and open a new raster layer, call it 'fire'.
I used the fire tube at 55% and the smoke at 100% I duplicated then mirrored
my layers. When you are satisfied with it, turn off all your layer except the smoke.
Layers-merge visible. Then add a drop shadow, colour #795A1.
Ver-0 Horiz-0 Opac-100 Blur 8.5
Now turn your smoke layer off and turn your fire layers on. Layers-Merge Visible.
Add the same Drop Shadow.
7) Now the next step depends on what you would prefer. You could put your name
instead of the halloween greeting and have this as a tag.
Using your preset shapes. Retain Style Vector and Antialais checked.
Line width 1.
Make a circle just be a little larger than the pumkin.
Now click on your text box, then hold the cursor
over the circle next to the left center node.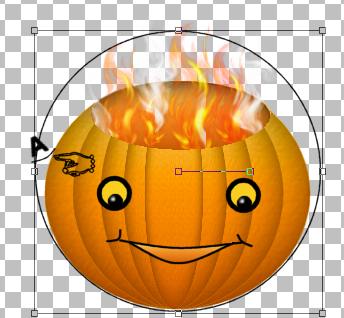 until you see the Rocking A indicating that the text will be placed on the path.
of the curve. Click once to bring up the Text Entry Dialogue Box
Use these settings.
Ensure that Vector and Antialais are ticked. Choose a font, I used Creepy.
Size 48, Kerning 0, Leading 0. Auto Kern checked.
Stroke Black- Fill #FBA621. Type Happy Halloween or what ever you would like.
Open your layer palette and click on the + sign beside your highlighted vector layer.
Hide the layer that is called 'ellipse'. Then right click the top highlighted layer and

convert to raster
Selections-Select All. Selections-Float, Selections Defloat.
Effects-3D-Drop Shadow with these settings.Ver-1 Hor-1 Opac-100 Blur-7 Black.
Deselect.
Now it's up to you to decorate with either my images or whatever
you would like to use. When I have finished my images I use the following to
brighten up the colours a little.
I hope you have enjoyed doing this as much as I have enjoyed writing it.
All graphics and web design by Anita.
Copyright Daydreamer.
All rights reserved 2002 2004