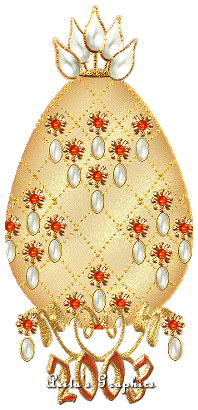 Peter Carl Faberge made some exquisite jewelled eggs for
many of the royal household of Europe and most especially the
Russian Tsar and Tsarina. I have been fascinated by these
for many years and decided this year to commemorate Easter
with my own interpretation.
I have written this tutorial using Psp Ver 7.04 but I am confidant
that you can also use PspVer 6.
This tutorial assumes a working knowledge or PaintShopPro
but you are always welcome to email me with any questions.
For this tutorial you will need:-
Paintshop pro trial version HERE
BladePro trial version HERE
Sinedots 11 download HERE
Dee' Amber Shimmer Preset HERE
My extra's HERE
Put the Sinedots cfg.file into your plugins folder
or where ever you prefer to keep them. Save the 'stand'
selection to your selections folder. Tube the pearl drop.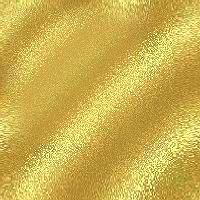 Right click and save the 'tex10.jpg.
Katra has very kindly given me permission to offer
this for you to use. Thank you Katra.
Ok lets get started. Remember to SAVE often.
Open a new raster layer 500x500 transparent and name it 'base'.
Set your foreground and background to #FEF4D9.
Select your Preset shapes and 'Uncheck Retain Style'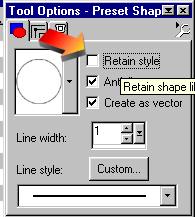 Pull out an ellipse to fill three quarters of your image.
Hold down the Ctrl key, click and hold your left mouse button,
on one of the bottom nodes and pull the shape out a little
wider.
When you are satisfied right click your highlighted base layer and choose
'convert to Raster'. Use your 'magic wand' and click in the middle
of your egg to select it. Set your foreground to 'pattern'
and choose the tex10(goldfill)
Add a new Raster layer and name it 'shine. Floodfill
with these settings. Do not deselect.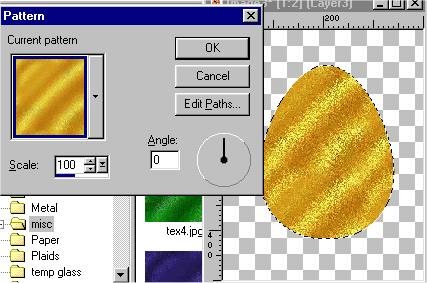 The gold layer needs just a little more red in it. Colours-Adjust
Red\Blue|Green.Put 10 in the red box and click ok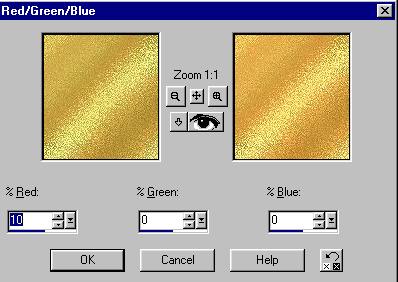 Go to your layer pallette and make sure your 'shine' layer is active.
Drag the opacity down to 36. Effects-Sharpen-Sharpen More.
Keep selected. Open a new Raster layer and call it 'cutout'.
Effect-3D-Cutout with the following settings.
Opacity 80,Blur 60, Horiz and Vert 0. Colour #BF6404
Layers-Merge visible. Deselect. Re-name 'egg'.
SAVE!
Webpage design by Anita.
Copyright Daydreamer 2002-2004.
All rights reserved.