Welcome to my Easter Plaque Tutorial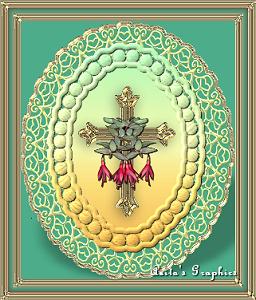 This is what we are going to make.
This tutorial was done using Ver 6 .02 but I am
confidant that it will work in later versions
with a few adjustments.
Supplies
Paintshop Pro. Download an evaluation copy
Superbladepro. Download an evaluation copy
Plaque zip
Put the Easter.jdg into your psp Gradient folder.
The three remaining psp images minimize on
your workspace.
Put your selections into your 'Selections' folder.
If you do not have one, open a 'New Folder'
and name it 'Selections'.
Dee's 'Gold Glass' Bladepro preset which
she has kindly given me permission to
offer for download.
Unzip to your Bladepro enviroments and texture
folder.
Okay Lets get started!
Remember to SAVE often.
Step 1. Open a new image 400x400 transparent
16 million colours, flood fill with black so you
can see what you are doing . Open the 'squiggles'image
and copy and paste as a new layer.
Click on Images-Effects-Kaleidoscope and
use these settings.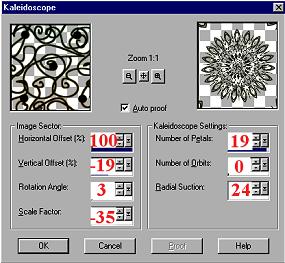 Your image should look like this:
I have done my images in black so that
they show more clearly.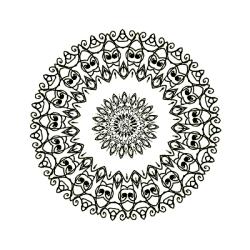 Step 2. Using your 'selection tool' make a circle

on this layer using the centre of the inner circle
and draw it out just to the edge of the the inner
circle.
Then hit Delete. Deselect. Ctrl+D
Click Selections-Select All, Selections-Float.
Click Floodfill and choose Linear Gradient.
with these settings.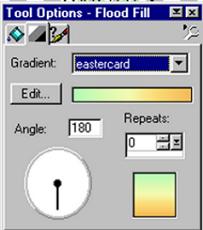 Floodfill the lace pattern.
Step 3. Click Images-Effects-Inner Bevel with
these settings.
Apply this inner bevel twice. Deselect. Ctrl+D
Now would be a good time to SAVE.

Graphics ©Copyrighted Prestigious Dames & Prestigious PSP 2002
Tutorials are ©Copyrighted by each Author