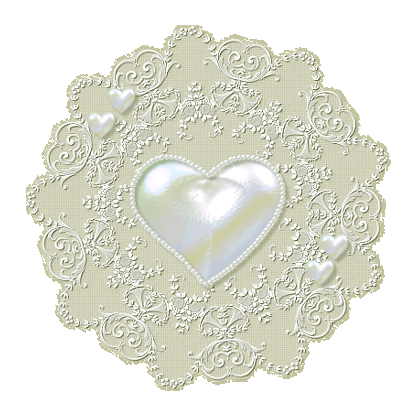 This tutorial was written using PSP ver 8.10
PaintshopPro-Download a trial version HERE
Supplies-HERE
Some understanding of Psp is assumed but you are
always very welcome to email me if you have a problem.
I have included the hearts that I made to decorate the lace.
Please feel free to colourize them to suit your own design.
Better still decorate with whatever you would like.
If you are going to use my hearts either export as tubes,
or minimize them on your workspace.
Open the 'floral corner' image onto your workspace.

I wish to state that this is made using a brush from LadySarahs.org.
A truly brilliant site for all things Psp. Unfortunately this
site is down at present and I cannot offer a link or the brush for download.
I am hoping that this compromise will not infringe any
Terms of use.

Okay lets start remember to save your work regularly.
Open a new image 400x400 pixels-transparent.
You may wish to choose your own colours. If not set your
foreground to #FFFFFF and your background to#C4C49E.
Floodfill your image with your background colour.
Make the floral corner your active image.
Click the copy icon.

Make your new canvas your active image, Right click
the top bar and choose Paste as a new Layer.
Remember to SAVE your creation at this stage.