Welcome to my Christmas Ornament Tutorial.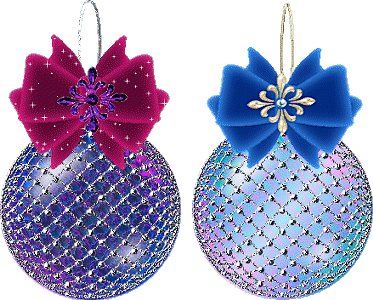 Written by A Jeffery 15.11.02
This tutorial assumes a working knowledge of
PaintShopPro.
To make this you will need:-
Paintshop Pro....download a trial version Here.
Sinedots filter....download Here.
Superbladepro....download a trial version Here.
My presets zip Here
Unzip into your enviroments and textures folder.
My supplies zip Here
Unzip the bows and beads. You may like to
tube the bows. If not mimimize both images
on your Psp workspace. Put the selection into your
selections folder. Put the Sinedots cfg into your
plugins folder or where ever you prefer to keep them.
Drop the gradient into your Psp Gradient folder.
Ok lets get started .
Remember to save often!
Open a new image 400x400 transparent. I like a nice space to
work in....Lol.Open a new layer and name it colour1.
Load ornament.sel from your selections folder. I realise you probably
know how to make a circle.....Smile. I just wanted to make sure
that you started with one that was the correct size.
Now colour is a matter of choice. I floodfilled with white and then used
my 'bluesome' SuperBladePro preset just to give my bauble a bit of substance.
Your bauble should now look like this if you have used my preset.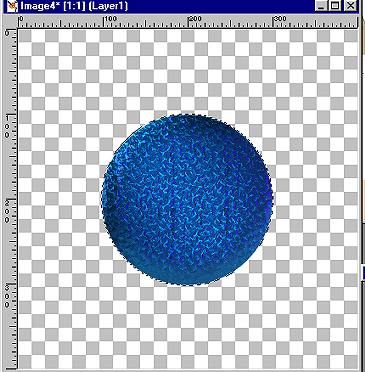 Do not deselect. Add a new Raster layer. Call it colour2. This is the bit I love.
Floodfill with a gradient. The choice is yours but it is best kept simple.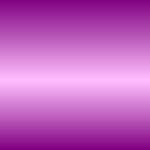 This is the colour I have used. I cannot remember who's it is, if it is yours
please let me know so I can give proper credit.
Use it with these settings.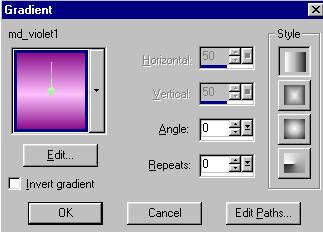 Now let's play. Make sure that the new gradient layer colour2 is highlighted.
Click on the arrow on the far right of the layer palette and select Hue from the
drop down menu.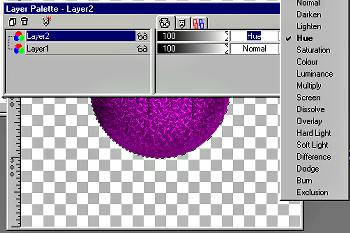 Now depending on what colour or gradient you have chosen
you can achieve some wonderful effects using these Layer Blend Modes.
In this case I have used Hue and my bauble now has a rich metallic look to it.
(Try other layer blend modes if you wish,some look better than others.)
It has also maintained its depth. If you are happy with your choice.
Merge these two layers Effects-Sharpen-Sharpen. Deselect.
Remember to save!
All graphics and web design by Anita.
Copyright Daydreamer.
All rights reserved 2002-2004