A working Knowledge of PaintShopPro is assumed.
Download Flaming Pear freebies Here.
This plugin is not mentioned but it is part of the package.
Extract to your Plugins folder.
Re-start Psp for them to take effect.
This will also work in PhotoImpact and PhotoShop Elements.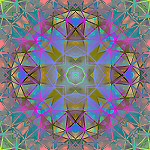 Drag this tile onto your psp workspace or use one of your own.
I use this plugin frequently to change images and parts of images,
also to re-color tiles.
Colourize in Psp will change the image to various shades of
one color. Kyoto Colour will change each color in your image.
Look at this example:-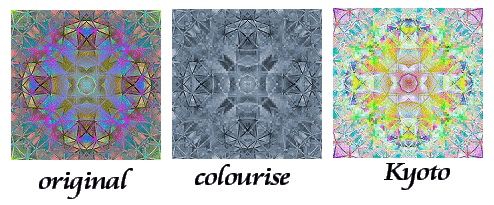 Below is the interface.

A little explanation of the Interface.
1-4 you can use to change the colours for yourself.
5 opens the Glue mode and there are (if I counted correctly lol...)
59 presets. These are like the Layer Blend Modes in Psp.
Using 6 the Randomize button will produce many more for each one.
7 will open any presets you have saved. Likewise 8 will save user presets.
9 always takes you back to the original colour of your image.
10 rotates through all the Glue modes sequentially.
11 will take you back to your last colour.
Just one more example.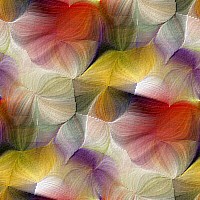 Original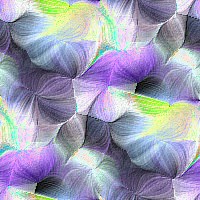 Similarity
Have fun and get rolling that Randomize button.