Welcome to my Christmas pages.
My thanks and best wishes
to all the members of Pspforfun.
Thanks Mar a lovely tutorial.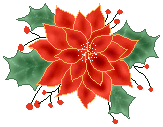 I would like to wish you all a very Happy Holiday
and a peaceful and Prosperous
New Year.
On the following page is a lovely seasonal painting of
Regents Street in Rugby. My home town.
As I could not choose which pages I like for
Christmas this year, I have put up several.
They can be accessed by clicking Next